An Updated Look at Northern Virginia's "Islands of Disadvantage"
In 2017, the Northern Virginia Health Foundation published a first-of-its-kind report identifying Northern Virginia's "islands of disadvantage" and census tract-level data on the range of factors shaping health and opportunity in the region. 
How have these communities fared since the report's release, and what progress can still be made?
The report, Lost Opportunities: The Persistence of Disadvantaged Neighborhoods in Northern Virginia, offers some answers. 
Lost Opportunities serves as an update to NVHF's 2017 report. It finds that Northern Virginia experienced considerable social and economic progress between 2009 and 2021, including increases in household income and educational attainment, accompanied by reductions in poverty and uninsured rates. However, communities of color largely missed out on the region's gains. 
For example, in one economically marginalized section of Bailey's Crossroads in Fairfax County, the poverty rate climbed from 17% in 2009-2013 to 30% in 2017-2021. Child poverty nearly doubled, from 32% to 63%. The neighborhood also experienced setbacks in educational attainment and English literacy, employment and overcrowded housing.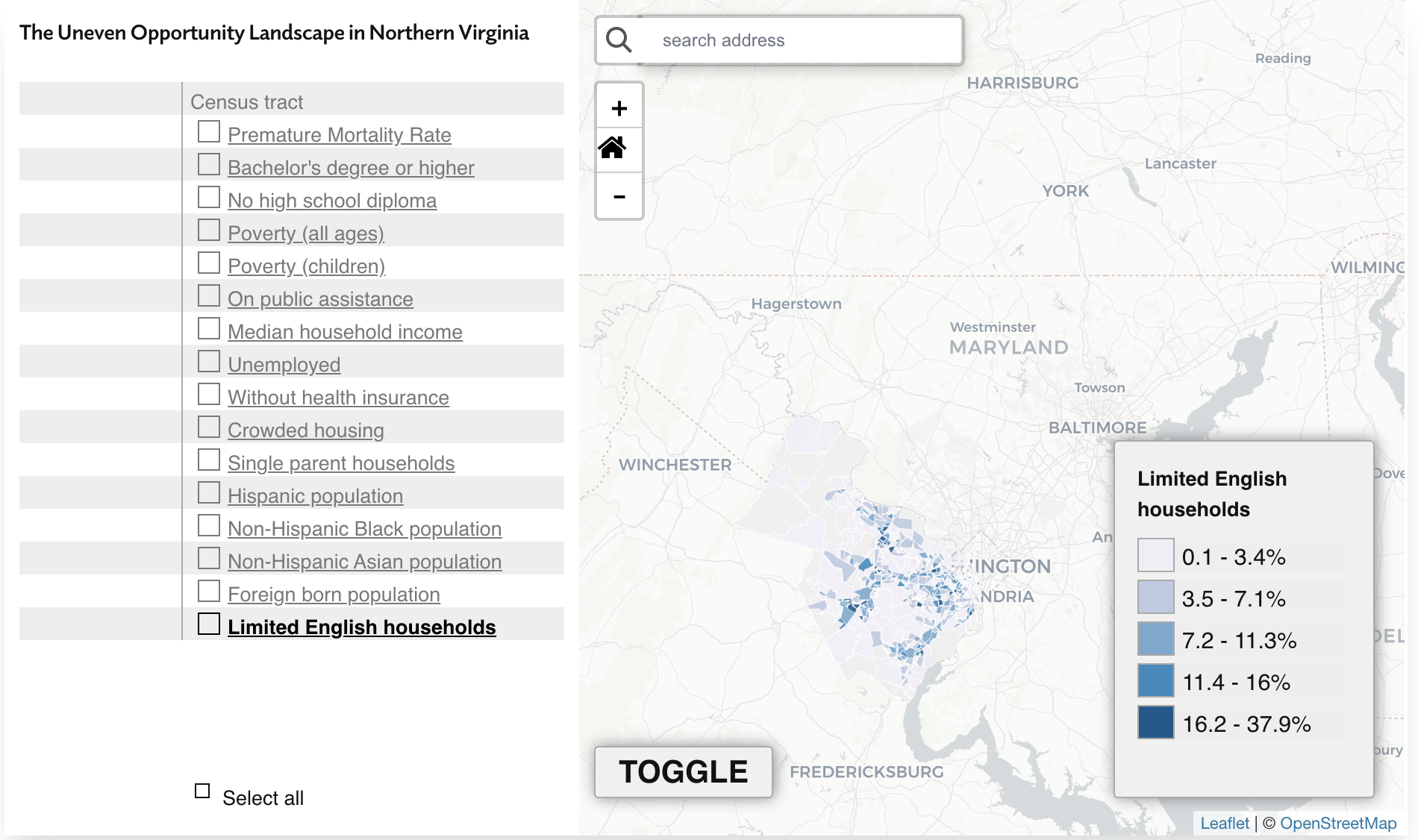 The region's progress reached some "islands of disadvantage." One predominantly non-White neighborhood along Columbia Pike in Arlington County experienced a 34% reduction in poverty. Median household income increased from $42,571 to $64,872, and the proportion of the population that was uninsured or relied on public assistance decreased by 43% and 33%, respectively.
Progress in some communities may have come at the cost of displacement, notes Steven Woolf, the report's lead author and director emeritus of VCU's Center on Society and Health. 
For example, in the Courthouse area of Arlington County, median household income increased from $87,233 to $132,603 and the poverty rate plummeted from 19% to 5%. However, the share of the population that was White grew from 48% to 68%, while that of the Black and Asian populations declined by 42% and 72%, respectively. Similar displacement appears to have occurred in Old Town Alexandria, areas of Annandale, and the historically Black neighborhood of Green Valley/Nauck.
The report findings, according to NVHF President and CEO Patricia N. Mathews, underscore the need for targeted investment in marginalized neighborhoods. 
"Everyone deserves to share in our region's social and economic progress—not just those who are already doing well," Mathews said. "For that to happen, we must dismantle the structural barriers that stand in the way."
Explore the "Lost Opportunities" report page, and view our jurisdictional one-pagers to go deeper into the factors shaping social and economic opportunity in Alexandria, Arlington County, Fairfax County, Loudoun County, and Prince William County.