Report
Northern Virginia Health Foundation 2012 Community Report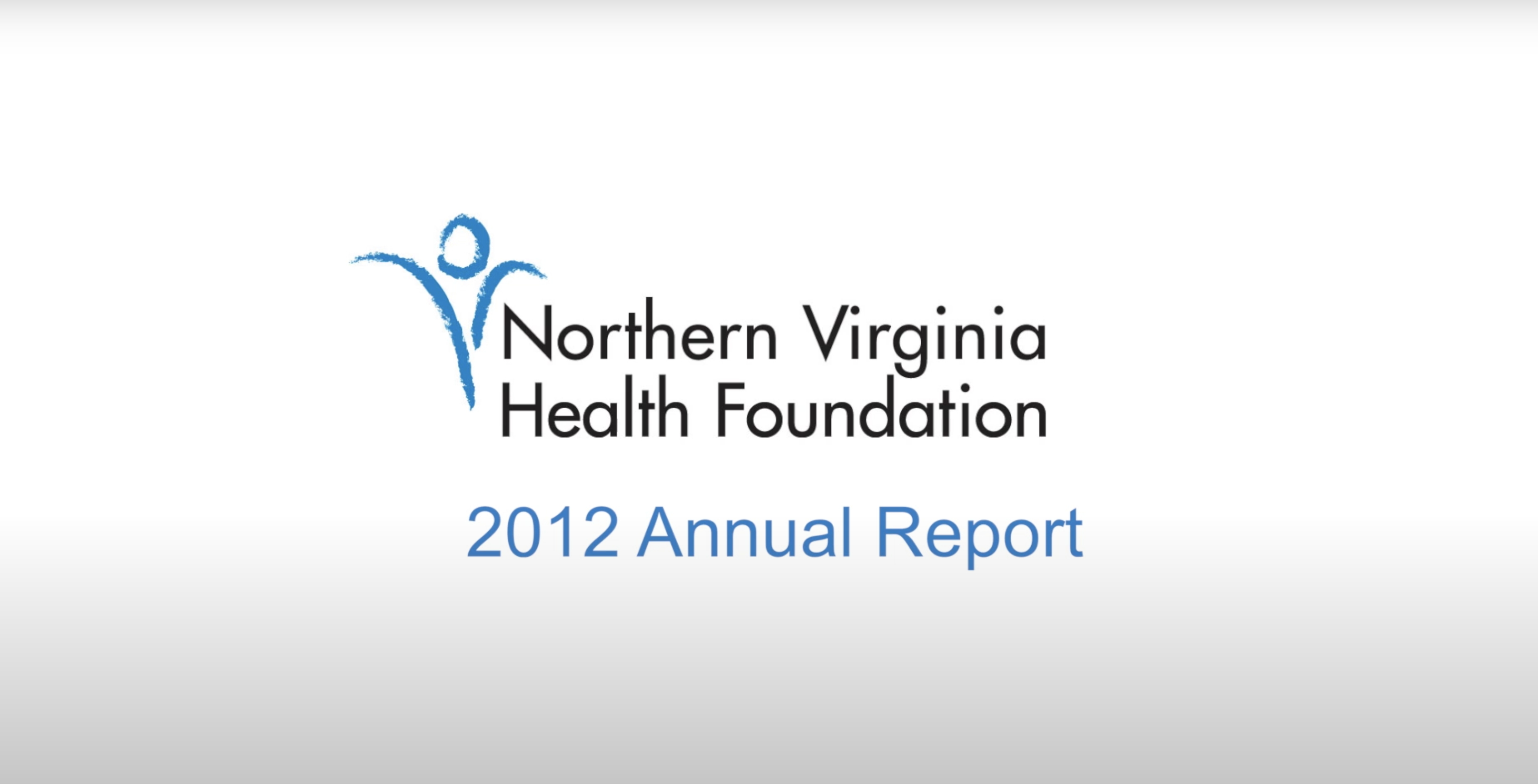 Since 2005, the Northern Virginia Health Foundation has been making a meaningful difference in the lives of Northern Virginians who are most in need. In 2012, through our grantmaking and "beyond grantmaking" activities, we've continued efforts to improve the health and health care of people across the region.
From supporting primary care and oral health services through clinics across the region to combating child obesity through the formation of the Childhood Obesity Action Network, the Foundation has continued to support organizations and initiatives that bring health, health care, and opportunity to our region.
This series of videos serves as our 2012 annual report. It highlights the work of our outstanding grantees and their accomplishments in building a healthy, thriving Northern Virginia. In 2013, we continue to build upon the momentum of the past six years, strengthen our strategic partnerships, and build new ones. We also continue to listen, learn, and take steps to address and improve the health and health care needs of low-income, uninsured residents of Northern Virginia.
Watch the introduction below to see the accomplishments of our outstanding 2012 grantees.
https://www.youtube.com/watch?v=LuuzfYYePLE&list=PLrtx2H3fcimtL6T5_9IbyfC7IeUn0vgDx
Primary Care
Alexandria Neighborhood Health Services, Inc., the Arlington Free Clinic, and the Greater Prince William Community Health Center are providing thousands of Northern Virginia residents with access to quality, affordable primary care and preventative care.
https://youtu.be/qmGvhw0ASxw?list=PLrtx2H3fcimtL6T5_9IbyfC7IeUn0vgDx
Pharmacy
Volunteer pharmacists at NOVA ScriptsCentral aren't just dispensing free medication to uninsured, chronically ill children and adults. They are improving the health of the region's communities through quality care and education about the safe management of chronic illness through prescription medication.
https://youtu.be/QWL1mhyfXkc?list=PLrtx2H3fcimtL6T5_9IbyfC7IeUn0vgDx
Pediatrics
The Arlington Pediatric Center offers comprehensive, affordable and quality care to over 4,000 children living below the federal poverty level in Arlington County.
https://youtu.be/b6REDhb2jqs?list=PLrtx2H3fcimtL6T5_9IbyfC7IeUn0vgDx
Mental Health
Northern Virginia Family Service provides quality, compassionate, and integrated mental health care to immigrants and refugees living in Fairfax County. They also provide immigration and legal services.
 https://youtu.be/huwdqX0CoqQ?list=PLrtx2H3fcimtL6T5_9IbyfC7IeUn0vgDx
Dental Care
Oral health is essential to overall health. The Northern Virginia Dental Clinic and the Northern Virginia Community College Restorative Dental Clinic are making sure that quality, affordable dental care is available to the region's uninsured and underinsured.
https://youtu.be/gjEvfZPhUZ8?list=PLrtx2H3fcimtL6T5_9IbyfC7IeUn0vgDx
Creative Partnerships
When the Loudoun Community Health Center and Jeanie Schmidt Free Clinic both faced similar health care challenges—rising costs, increased demand for patient services, and limited space—they combined their resources and created HealthWorks for Northern Virginia to meet a critical need in Fairfax County.
https://youtu.be/EAhN1DsZveg?list=PLrtx2H3fcimtL6T5_9IbyfC7IeUn0vgDx