Northern Virginia Dental Clinic Celebrates 25 Years of Service
By: Patricia N. Mathews, President and CEO, Northern Virginia Health Foundation
In 1993, a group of dentists who belonged to the Northern Virginia Dental Society envisioned a regional clinic where low-income and uninsured adults could access affordable dental care. They met with government officials from several Northern Virginia counties and cities and established the new clinic as a public-private partnership.
The Northern Virginia Dental Clinic (NVDC) opened its doors at Bailey's Crossroads in February 1994 and has been growing ever since. Its corps of largely volunteer oral health professionals serves thousands of residents every year from Arlington, Fairfax and Loudon counties and the cities of Alexandria, Fairfax and Falls Church. We are fortunate to have NVDC serving our region.
As the clinic celebrates its 25th year of operation, it's worth taking stock of its accomplishments and the service it provides our community. In particular, I want to acknowledge Tom Wilson, who took over the clinic's helm as executive director in 1997 after retiring from the U.S. Coast Guard. Over the years, Tom has been a driving force behind NVDC's expansion and success.
A Journey of Service and Growth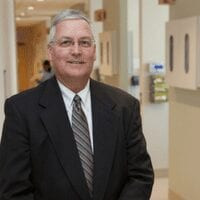 When Tom joined NVDC, it had four dental chairs in the Bailey's Crossroads facility.Today, NVDC is in a state-of-the-art facility at the Merrifield Center in Fairfax, where it moved in December 2015. The Fairfax clinic has six dental chairs and each examining room has its own intra-oral radiographs and a 3-D panoramic scanner.The Fairfax clinic is co-located with the Fairfax County Community Health Care Network, which provides primary health care services to low-income residents, and the Fairfax-Falls Church Community Services Board, which serves people with mental illness, substance use disorders, and developmental disabilities. Together, these organizations are working to create an integrated care system for their patients.Another NVDC clinic in Sterling, which opened in 2010, has four dental chairs.In 1997, NVDC recorded approximately 3,100 patient visits. Last year, NVDC logged 11,300 visits. Tom hopes that this year's tally will exceed 12,000.
Not only is NVDC serving many more people, it provides many more services: from diagnostics and restorative care and cleanings to all types of oral surgery, endodontics, biopsies, periodontics, and emergency care. It also provides full and partial dentures.
Serving the Underserved
But NVDC is about more than providing services—it's about providing services to underserved patients in a respectful, compassionate way. Many of NVDC's patients, especially those who are immigrants, have never seen a doctor or sat in a dental chair before. They come in filled with fear and anxiety. But NVDC's oral health professionals calm their fears, provide the treatments they need, and teach them how to take care of their families' teeth, so that good oral health becomes both a value and a habit.
NVDC partners with a network of private and public social service agencies that refers eligible patients to NVDC. Patients must be 18 years or older, have incomes within 200% of poverty, and live within NVDC's service area. NVDC will see anyone referred by the network.
Free clinics tend to have high no-show rates. NVDC didn't want that, so it has always charged patients a fee. Today that fee is $50, which buys patients a block of time—45 minutes to an hour—to get as many services as can be provided. On average, that comes to 2.5 procedures per visit.In 2017, NVDC performed 25,321 dental procedures worth more than $5 million, based on the average cost of those procedures in the private sector.Clearly, despite the perception of Northern Virginia as an affluent community, the need for adult dental care here is tremendous. Tom estimates that 10 percent to 12 percent of our residents can't afford oral health care on their own."The people who are our patients are in dire need," he says. "They can't take time off from work, but they're in pain."
Over the years, NVDC has worked tirelessly to break down barriers to oral health for Northern Virginians. Tom says it's a team effort that includes the clinic's staff and volunteers, board of directors, partner agencies and providers, local government officials and local funders.
The Northern Virginia Health Foundation is proud to support the efforts of this dedicated team. We look forward to NVDC's continued growth and service over the next 25 years.
For more information about the Northern Virginia Dental Clinic, visit: http://www.nvds.org/northern-virginia-dental-clinic