How Arlington is Harnessing the Power of Partnerships to Improve Health
In Arlington, Virginia, patients at the county's safety net clinics are asked questions about their non-medical needs. They share whether they're worried about having a place to live or if they've had trouble affording food and transportation. Soon after, patients who answered 'yes,' to any of these questions are contacted by a case manager who connects them to local resources and support. This community health partnership was designed to more easily uncover and address problems that have an even greater impact on health than does medical care or health behaviors.
While Arlington County is among the wealthiest counties in the U.S., its high average income masks the underlying poverty and health disparities that exist in certain community pockets, including neighborhoods where many patients with low incomes live.
Health professionals at local safety-net clinics regularly see patients whose health is compromised by social and economic factors. Many patients can't afford food. Others work long hours and multiple jobs and often struggle to get to doctor's appointments. When care is delayed, health conditions worsen, often leading to costly care in hospitals and emergency rooms and to poor health outcomes.
These situations highlight two primary problems in Arlington: the health of low-income patients is negatively affected by community conditions, and these conditions will only improve through advocacy to bring about systems change.
In May of 2018, Arlington Free Clinic and its community partners identified that solution.
How the LINK collaborative formed
A funding opportunity from the Northern Virginia Health Foundation challenged applicants to partner with local organizations and demonstrate their capacity to forge authentic public-private partnerships to address systems change. Each partnership needed to be comprised of nonprofit community organizations, nonprofit healthcare providers and government agencies. In response, Arlington Free Clinic, VHC Pediatrics, VHC Outpatient Clinic, and the Arlington County Department of Human Services' Public Health Division joined forces to create the LINK initiative.
Short for Linking Social Factors to Health in Arlington County, LINK came together with the goal of tracking social determinants of health, connecting residents to supports within the county, and advocating for systems change to improve community conditions. The partners collectively developed an 11-item screening questionnaire to collect data on their respective patient populations.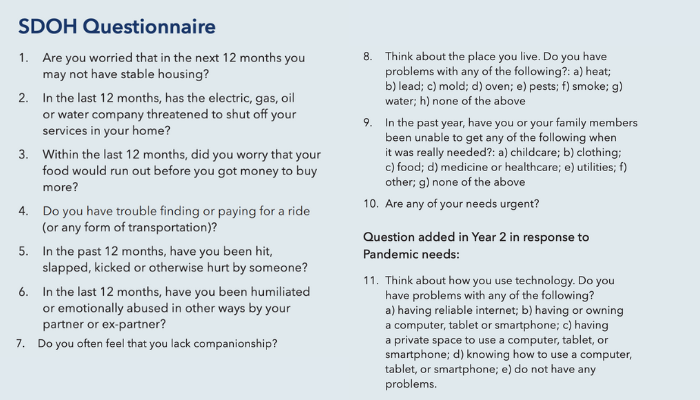 By the end of 2020, nearly two and half years after the initiative launched, LINK partners had screened more than 1,700 patients using the questionnaire. Food, transportation, housing and digital access challenges were the leading conditions impeding the overall health and well-being of Arlington's lowest income residents.
The screening efforts provided data that supported the efforts of LINK partners to advocate to county decision-makers for change in community conditions.  Collaborations like LINK are vital because they demonstrate to many players — hospitals, nonprofits, community stakeholders, to name a few — that data can drive action, says Nancy White, president of Arlington Free Clinic.
A new report documenting the collaboratives first five years explores LINK's accomplishments and lessons learned about working in this type of partnership. 
Ups and downs of collaboration
On many accounts, the initiative has been a success. LINK's data helped raise nearly $700,000 in grocery cards for patients who couldn't afford food during the pandemic; contributed to the county's decision to launch a Food Security Task Force and create a county-wide Food Security Coordinator position; and LINK's data on digital equity led Arlington Public Libraries to create an office-like private space for people who need broadband connection, a computer, and technical support for telehealth appointments, attorney consultations, and job interviews. 
VHC Health (formerly Virginia Hospital Center), the community health system that houses VHC Pediatrics and VHC Outpatient Clinic, decided to integrate a similar version of the screening tool into its electronic health record system. This will allow the health system to collect social determinants of health data from patients at more than 35 VHC Health locations in Arlington and surrounding neighborhoods.
But cross-sector collaborations like LINK are also difficult, White explained.
"We're not talking about issues that go away with a single doctor visit. They're layered, so it takes coordination to figure out where the connections are, and who has the administrative time for follow-up. And because systems change doesn't happen quickly either, you and your funders and partners have to be willing to stay the course," White said.
Despite these challenges, the group has found a way to thrive by building on their individual strengths. 
"We realized that Arlington Free Clinic could be nimble since we didn't have to go to a county board or executive staff for permissions; that was important because it allowed us to focus on data collection. We could flex and adjust our systems or support individuals as we needed," White said. "But we're small, so when it came to addressing bigger problems at a systems-wide level, having the community connections with the hospital and with government and county leaders really made the difference, particularly in pushing for permanent changes." 
What's next for LINK? 
White plans to continue elevating the importance of social determinants and to champion the role that strong partnerships and data play in improving health.
"Data has given us confidence to speak up in a way that we haven't before. We know we can use our voice to extend the work that others are doing in critical problem areas like housing, transportation and childcare.
As partnerships like LINK continue to develop, it will be essential for health safety net leaders to embrace advocacy and other community-driven strategies to address the systemic factors that are negatively affecting the health of residents in Arlington and other parts of Northern Virginia.
For more on LINK, read the full report Linking Social Factors to Health in Arlington County (LINK): Community Report 2019-2023.