In Arlington, a New Report Reveals Stark Disparities in Health and Well-Being
By: Northern Virginia Health Foundation
For years, Arlington has celebrated being ranked highly in many areas, such as employment and educational achievement. And, independent assessments like the County Health Rankings consistently place Arlington in the top three localities in Virginia for overall health outcomes, including life expectancy.
But a new report looks beyond these aggregate datasets and reveals stark disparities in health and well-being among Arlingtonians.
A Decade of Difference, the final report from the Destination 2027 Steering Committee, highlights that life expectancy varies in Arlington by as many as 10 years depending on who you are and where you live, a finding first uncovered by the Northern Virginia Health Foundation.
The Foundation's 2017 report identified 15 "islands of disadvantage," places – in Arlington and in other parts of Northern Virginia – where residents face multiple, serious challenges, interspersed among some of the region's wealthiest communities. The report called for collaboration across sectors to reduce disparities and create opportunity for everyone.
To that end, the Steering Committee, a diverse body of community leaders representing more than 40 organizations and multiple sectors, produced its report to draw attention to the significant disparities that exist within Arlington's 26-square miles and to chart a path forward.
According to the report, within Arlington:
The percent of children living in poverty is up to 5 times higher in certain neighborhoods.

Residents making less than $50,000 a year report poorer mental health.

The teen birth rate for Hispanic residents is 11 times higher than it is for White residents.

Black residents are 8 times more likely to be hospitalized for asthma-related conditions than White residents.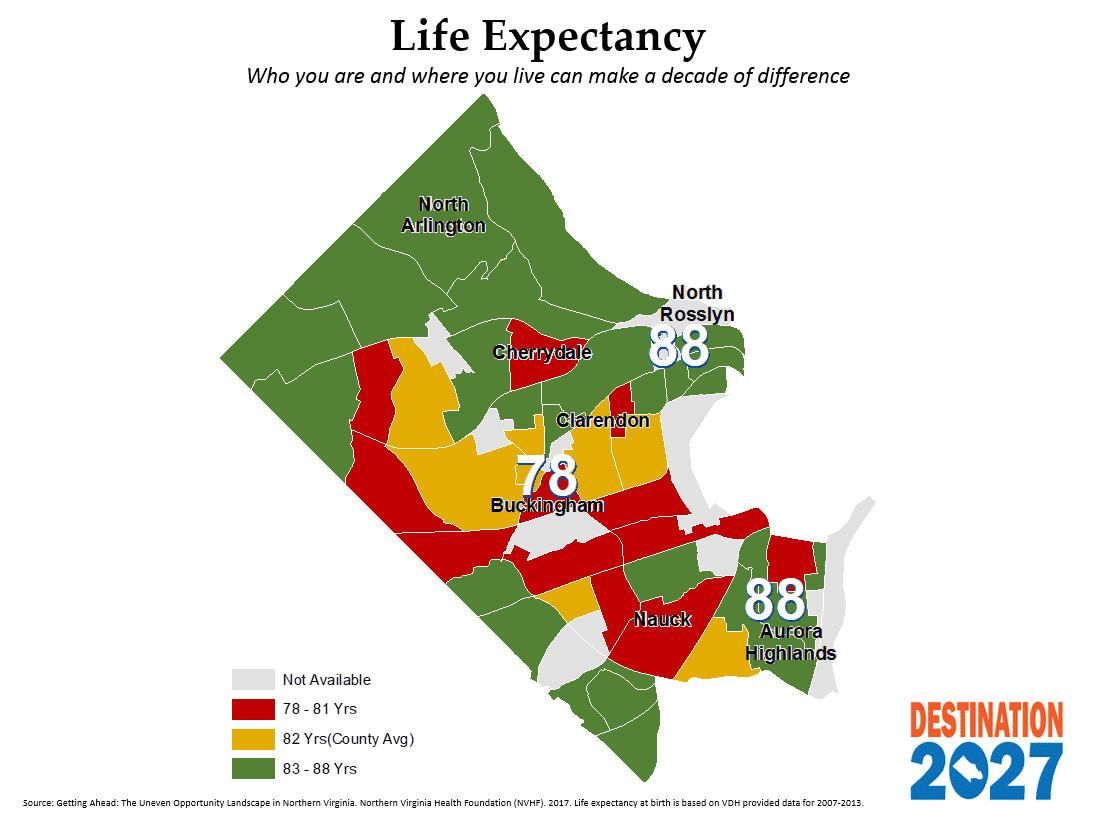 These disparities did not happen by chance. The authors note that each circumstance is the consequence of policy decisions made over time, and many cases, are the result of racial and economic biases.
Reducing these disparities and achieving health equity, according Destination 2027 co-chair Abby Raphael, is a community-wide endeavor requiring difficult and candid conversations – and focused time and commitment.
Arlington County has already started undertaking efforts to address equity broadly through initiatives to end homelessness, create more affordable housing, improve access to and quality of child care and reduce educational achievement gaps. The committee's plan builds on those efforts and outlines specific action steps for achieving health equity in Arlington, chief among them: for the County Board to adopt a Health Equity Policy and Arlington to establish an entity, within or outside of County government, to implement the policy and encourage the adoption of similar policies in the private sector.
"While we may not be responsible for creating these conditions, each of us owns solving them," said Destination 2027 co-chair Tricia Rodgers, who is also on the staff of the Northern Virginia Health Foundation.
The report, Rodgers says, is a call to action for the entire community to focus on equity so that every Arlington resident has the opportunity for a healthy and prosperous future.
Read the full Destination 2027 Steering Committee Report, A Decade of Difference.
---
Header image: "Aerial" by ArlingtonVA is licensed under CC BY 2.0